Motorola CLP 107 Two Way Radio Overview
The Motorola CLP107 two-way radio is a professional two-way radio that is economical, compact, and simple to operate. It is developed for workgroups that want an ultra-lightweight radio and is comfortable to wear. The Motorola CLP107 is perhaps one of the simplest two-way radios to operate, thanks to its lightweight construction, which ensures that the radio does not burden the user or their clothing. The Motorola CLP107 is quite small, and you can easily slip it into a shirt pocket, dress or safety vest without the wearer realising it's there. Furthermore, it is quite easy to carry as it weighs only 68 g.
Why you should buy Motorola CLP 107 Two Way Radio
The Motorola CLP 107 two-way radio is lightweight, weighing only 68g and can be simply affixed to any surface.

The device may be effortlessly connected to the CLP Ready Wireless Pacific Smart Heavy-Duty Headsets that works effortlessly in noisy conditions without a hitch.

 You may use voice recognition to access all of the capabilities, including monitoring, scanning, and call tone operations.

The smartphone is equipped with a Lithium-ion battery that allows for a 9 to 14-hour talk time.
Watch full tutorial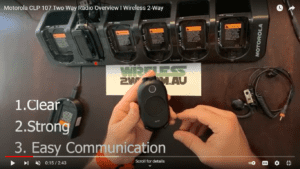 1. The CLP radios are clear and powerful, making communication simple and easier even in a noisy situation.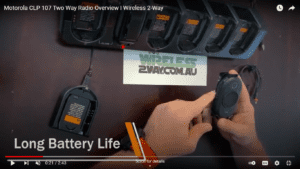 2. The radio is built to last, with long battery life and the ability to withstand the wear and tear of a fast-paced sector.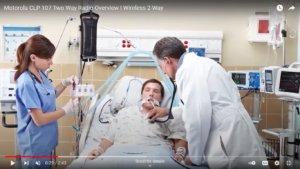 3. When it comes to the healthcare industry, CLP radio can help improve many hospital areas such as the emergency room, intensive care unit, and critical care unit. This improves the hospital's efficiency by reducing its efficiency to a greater level.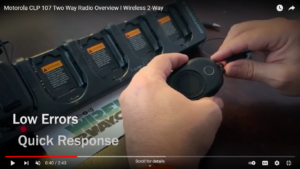 4. CLP radios aid in reducing errors and help to respond quickly in case of emergency situations. This helps to provide better services and saves an organization from unnecessary face loss due to errors and inefficient service.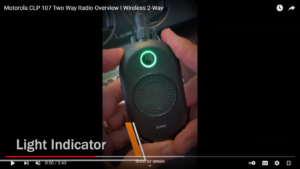 5. The radio is provided with a status blow light with smart indicators that notifies radio transmission, receiving signals and also the battery level.
6. It has a centrally placed, textured push-to-talk button. There is also an additional inline push-to talk button that is provided with a microphone.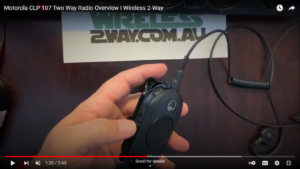 7. Volume of the radio is controlled by two large buttons on the sides of the radio unit. The volume control is provided with 6 adjustable volume levels which makes the CLP easy to use.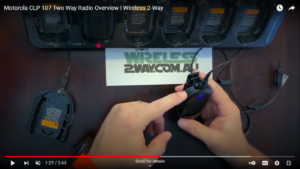 8. Power button is easy to notice and easily accessible. It is located right at the top of the radio unit.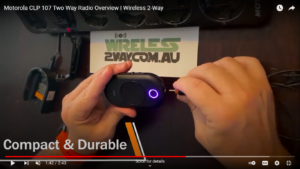 9. The CLP radio is also provided with an accessory connector which works on a screw-in mechanism and has a compact, durable feature.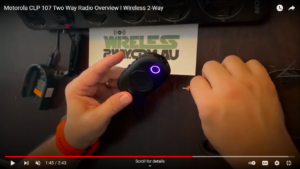 10. When the accessory connector is disconnected from the radio, the LED flashes a different colour to indicate that the accessory has been disconnected.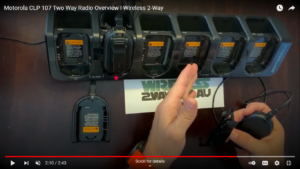 11. The CLP 107 has 2 charging units: single unit charger which is quite robust in nature and a six bank multi-unit charger.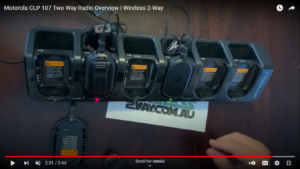 12. The radio has multiple storage areas to keep all its accessories while putting the radio for charging. This feature saves the radio from any unwanted damages.
Summary-
So that's everything you need to know about Motorola CLP 107 Two way Radio. Initially it  might seem that the gadget is difficult to use, but gradually you will get the hang of it as you use it. In case you face any inconvenience while using them, go through the user manual provided or call their tech support assistants for seeking help.
https://wireless2way.com.au/wireless/wp-content/uploads/2022/03/motorola-clp-107-user-guide.jpg
1260
2240
Kevin Robinson
https://wireless2way.com.au/wireless/wp-content/uploads/2017/03/wireless2way-logo-green.jpg
Kevin Robinson
2022-03-23 22:05:29
2022-04-26 16:03:14
Motorola CLP 107 Two Way Radio Overview