Description
"Like carrying a telephone on your head"
Coaches Encrypted Sports Communications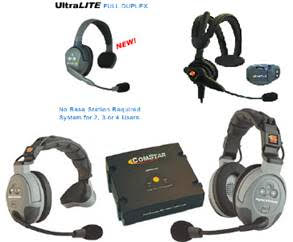 Comstar is a hands-free wireless sports communicator that allows coaches to talk simultaneously.
The Comstar sports communication system has no buttons to push every time you want to talk, as it is constantly transmitting and receiving. To operate simply turn the wireless unit on and talk, it's that simple. Digicom's unique digital format allows coaches to communicate without complicated base stations, repeaters or interconnecting stadium cables.
How It Works
ClearLine™ transforms voice into 1s and 0s, the digital language of computers.
010111011101011011011101101010 1
ClearLine is a voice communications microprocessor converts transforms transmissions into digital data stream. This computerized stream of "data" is exchanged between coaches, Not Radio Waves. Incoming digital signals are simultaneously decoded and translated back into voice. This flow of digital information supplies an open line, simultaneous talking pattern. We assign each football team their own unique digital code that is different from any other in Australia. (256,000 codes available)
Headset Features
Rugged spring steel headband
Low profile comfortable fit
Wide, soft ear cushions
Fully adjustable gooseneck mic boom
UltraLITE
For applications that require both comfort and durability the UltraLITE is the perfect headset to accompany your sports communications device. The UltraLITE features an internal spring steel headband that can be adjusted to provide comfort for each individual user. Extra soft headband pads and ear-cushions also ensure that the headsets not only fit snug, but are a pleasure to wear.
For further information on our sports communication packages please contact our Sales Division so one of our qualified can guide you through the options available.