Should You Buy Or Rent Two Way Radios
Are you uncertain about whether to purchase or rent two-way radios? The answer is dependent on a number of factors, as well as how your company runs during the year. Two-way radios have proven to be an excellent choice when you need additional, dependable communication tools for your employees. While you are confused about whether you should buy or rent the two-way radios.
Watch the full video here:
According to several groups, renting a two-way radio is a superior option. Here's why- 
Buying two-way radios is more expensive than renting.
 Buying two-way radios is an expensive initial investment, and the costs of storing, tracking, and maintaining them make renting a more cost-effective option, particularly for temporary situations. Renting means they cover all of the radio's hard costs, including maintenance charges, and rentals might be for a few hours or several months, making it a more flexible option. Short- and long-term rental agreements are both possible.
Renting a Two-way radio comes in handy when you need them urgently- 
Rental radios are ready to use right away and maybe rapidly coordinated with all other equipment that is in use. Large-scale operations and events necessitate more workers, which necessitates the use of additional radios. When you rent, your employees may go right to work without having to worry about maintenance or storage. You can rent as many units as you need, and rental two-way radios usually come with a discount. There are lots of last-minute rentals available if your group increases or you hire more people.
Renting helps you to try before you buy-
Before investing in a number of two-way radios, renting can help you figure out which type of two-way radio is best for your needs. While all Motorola two-way radios are designed with the end-user in mind, your team may discover that some features aren't necessary for the job. Now let us walk you through some of the useful tips you can use, while you make a decision, of whether to rent or buy two-way radios.
Tips to help you make the decision better-
First, you have to carefully consider whether your requirement for two-way radios is frequent or is just a one-time requirement. If you're gonna be using the two-way radio just once or twice a year, you may want to rent it, instead of buying them. However, if you deal with business related to construction work or security, you might want to buy them, because you will be needing them more often.
Reasons to rent a two-way radio-
If you are a part of an upcoming event like music concerts or games coming up, you would want to rent the two-way radio. Make the estimate of the number of two-way radios you will be needing and rent them at your ease.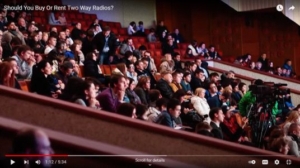 If you have a small maintenance contract coming up, say for maybe four-five months, in that case it's best to rent the two-way radio. For such a short term requirement renting is the best option.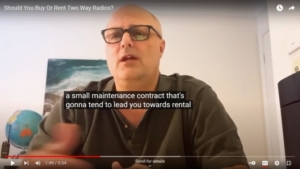 Reasons to buy a two-way radio-
If you have ongoing events, such as music concerts, that are mostly taking place very frequently then it would be a good idea for you to buy two-way radios as per your requirements. It will be a one-time investment as you will be needing them very frequently.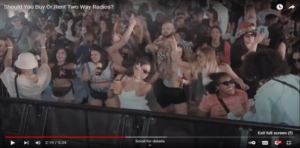 If you are currently associated in the educational sectors like schools, colleges, coaching institutes, where you require two-way radios all round the year, it's best for you to buy the two- way radios instead of renting them.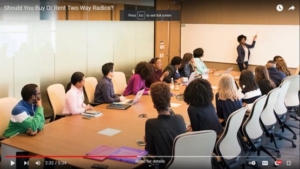 If your business is related to healthcare centers like hospitals, you will be aware that the hospital maintenance and security staff would require two-way radios all round the year. In that case buying is the best option for you.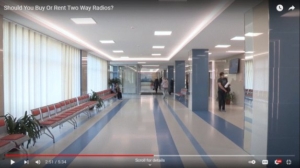 If your business is related to the retail sector, you would be aware that your business store would require two-way radios seven days a week. In that case, it would be best for you to buy the two-way radio instead of renting them.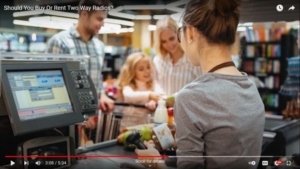 If you think about buying two-way radios, always check your requirements and then review them before placing the order. Also if you think about renting them,  look for stores that charge a decent rental charge like 10-18 dollars a day. Do your research and then go forward with the purchase.
Summary-
So to sum it up, the decision of buying or renting two way radios, is completely your call. You can buy two way radios if you have have ongoing frequent events coming up or maybe you are associated with sectors that require two-way radios on a regular basis like- retail sector, educational sector, healthcare sectors and so on. But if you don't need them on a regular basis, and your requirement is a temporary one, you can surely rent the two-way radios.
https://wireless2way.com.au/wireless/wp-content/uploads/2022/03/Should-you-buy-or-rent-Two-way-radios.jpg
628
1200
Kevin Robinson
https://wireless2way.com.au/wireless/wp-content/uploads/2017/03/wireless2way-logo-green.jpg
Kevin Robinson
2022-03-30 02:36:15
2022-04-26 16:02:21
Should You Buy Or Rent Two Way Radios