Which Two Way Radio Audio Accessories Are Best For You
Choosing Two Way Radio Audio Accessories
When consumers require rapid, secure, and regulated communication, two-way radio is the ideal option. By delivering a full, tailored solution that is safer and easier to use with increased system performance, using the proper accessories with the radio can add real value for users.
Every sector has its own set of criteria when it comes to digital two-way radio communication. Noise-cancelling headphones are usually required by construction workers. For long shifts, security teams require high-capacity batteries. It's clear that buying a two-way radio isn't enough. Businesses must consider worker demands and expand the effectiveness and capability of their radios using two-way radio accessories to get the most out of it. The durability, ease-of-use, and audio clarity of two-way radio communication solutions are critical in construction situations, where employees must struggle with noise, transport goods, and work around dangerous machinery.
Watch the full video here:
Two Way Radio Audio Accessories That Are Best For You
Surveillance Kit or Curly Cord-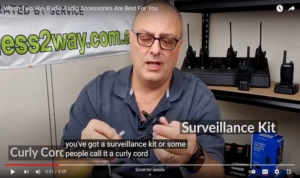 These are used in a high noise environment to keep the earpiece in the proper position. These come with clips to keep the earpiece in place and are generally used by security guards and TV anchors.
C Swivel / G Earpiece for Two Radios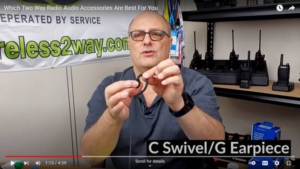 These in-ear devices are great for security workers who need to preserve mobility and awareness while keeping the ongoing communication a secret. They are small, lightweight, and unobtrusive. They can also be utilized with other audio accessories to minimize background noise, increase loudness, and improve voice recognition.
Speaker Mic / Hand Mic for Two Way Radios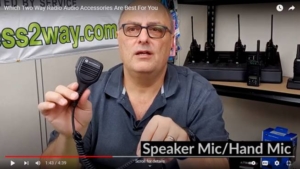 The groundbreaking windporting feature on these remote speaker mics reduces background noise caused by high winds and other severe weather conditions. Even if the microphone port is blocked by water, audio can pass through the speaker grill. When Mother Nature isn't cooperating, public safety workers may now be more confident than ever in clear, intelligible communication. The new audio accessory connector on the coiled cord allows you to converse and listen without having to remove your belt or case. Push-to-Talk switch, swivel clip, and quick disconnect latch are all included in these devices.
D Type Earpiece for Two Way Radios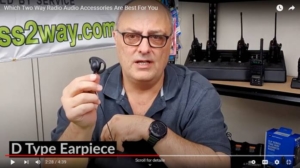 Hands-free communication is possible with these earpieces, which is great for video conferencing, games, and lingual recognition. Universal compatibility of D-shape earphones: Work with all audio devices with a standard 3.5mm jack, such as iPod/MP3/MP4/CD players, phones, tablets, iPods, laptops, or other media-playing devices, Hi-Fi or car stereos. These are ideal for individuals involved in duties related to- police services, military, nightclubs, bars, security, restaurants, hotels, bouncers, warehouses, and other noisy areas. There is no PTT or microphone on these devices; it is purely for listening. Either the left or right ear can be accommodated by the headset. These offer exceptional endurance, dependability, and performance, as well as excellent sound quality. The D-shape ear hook earphones are extremely portable, with a typical chord length of 1.2m and a standard 3.5mm socket.
Double-Sided Earpiece for Two Way Radios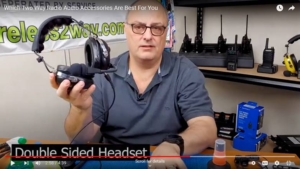 It may be difficult to converse above the noise when drills, cranes, bulldozers, and other heavy machinery are in use. In these environments, Double Sided Earpieces are quite useful. External noises will be muted, the user's ears will be protected and incoming and outgoing speech transmissions will be amplified with these headsets. Users can use a remote speaker and microphone combo, such as the Motorola Solutions PMMN4067, if they don't wish to wear an earpiece.
Single Sided Earpiece for Two Way Radios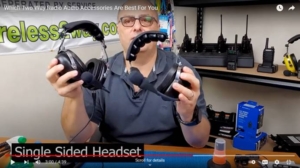 Students, drivers, labourers, commuters, and others who wear earpieces frequently utilize only one earpiece in order to keep alert to their surroundings. While listening to dispatchers, drivers can maintain their focus on the road, so Single-Sided Earpieces are quite useful.
Summary-
So these are our options for some of the best two-way radio accessories you can purchase. You can get any one or more of the two way radio accessories mentioned above such as Surveillance Kit or Curly Cord, C Swivel / G Earpiece for Two Radios, Speaker Mic / Hand Mic for Two Way Radios, D Type Earpiece for Two Way Radios, Double Sided Earpiece for Two Way Radios and Single Sided Earpiece for Two Way Radios. Remember that you are to choose only those accessories that suit your requirements and utilities. If you are confused and unsure about what you need, get professional consultation to guide you through it.
https://wireless2way.com.au/wireless/wp-content/uploads/2022/03/motorola-clp-107-user-guide-3-1.jpg
882
1568
Kevin Robinson
https://wireless2way.com.au/wireless/wp-content/uploads/2017/03/wireless2way-logo-green.jpg
Kevin Robinson
2022-03-30 20:25:13
2022-04-26 15:58:19
Which Two Way Radio Audio Accessories Are Best For You