Virtual IP Radio – REDEFINING COMMUNICATION BOUNDRIES
3G & WiFi compatible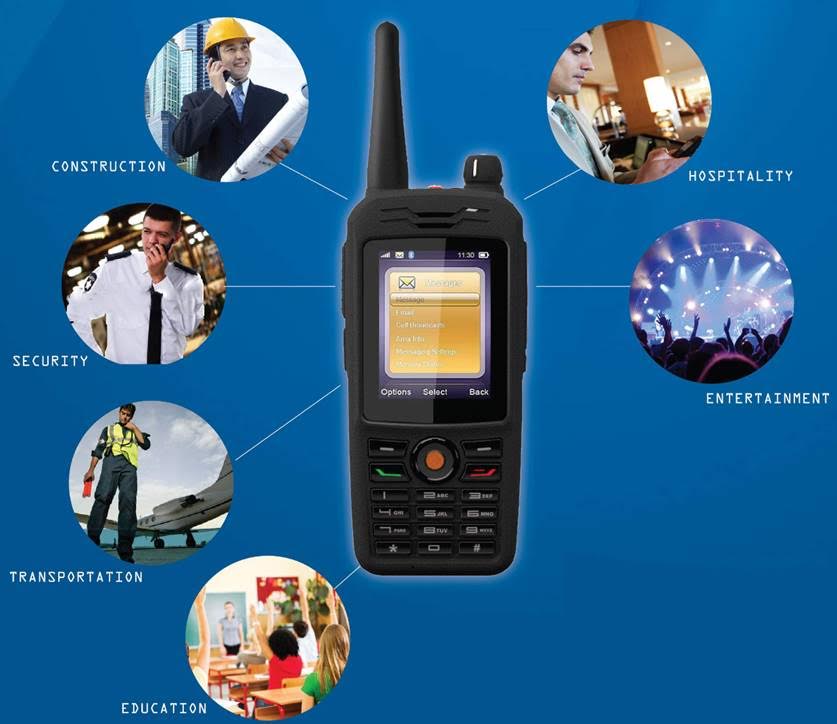 Hotel, Construction, Warehousing, Transport, University Campus
SMART PHONES MEET TWO WAY RADIOS
EVOLUTION OF SMART PHONES HAVE CHANGED THE LANDSCAPE OF THE TRADITIONAL RADIO MARKET
MIGRATE RADIO COMMUNICATION FROM NARROW BAND TO WIDE BAND

While using a 3G / WiFi 2-way radio you have no limitations. Using a University campus as an example:
When you're within WiFi coverage you are talking to other radio users via WiFi. Once you move outside you WiFi coverage your radio will automatically log onto the local 3G network.
99% Australian population coverage by mid 2017
License-free operation
Extensive indoor & outdoor coverage
International roaming
Special coverage options
Efficient communications for critical operations
Instant one-to-many communications
GPS location tracking
Digital encryption
Nationwide coverage
ALWAYS AVAILABLE
COMMAND & CONTROL
PC-based dispatcher software
Runs on any Windows-based PC
Multiple group channels
Individual calling
GPS tracking
You already know the benefits of two-way radio: speed, straightforwardness, effectiveness. No dialling, no ringing – just swift, efficient exchanges of information between groups of people. Two-way radios get the job done.
But you also know the limitations of two-way radio: infuriatingly short range, expensive infrastructure, complicated licensing and outrageously high costs – especially for short term events. Whatever you try, or however much you spend, you never seem to be able to talk to the people you need to reach.
When two-way radios lets you down, plan B is to use your mobile phone.
Now, you can talk to people, but it's painfully unproductive. Having to pass the same message to multiple people one at a time is slow, while missed calls and engaged tones are frustrating. Co-ordinating a team response is impossible. And what happens when you don't know someone's number? Don't forget "Chinese whispers". But he said……..
We saw the same problems happening again and again so we Virtual Trunk was created, the first digital two-way radio system that works over the public 2G & 3G mobile phone networks.
With Virtual Trunk you have all the benefits of two-way radio, combined with the comprehensive geographical coverage of the mobile phone networks. Communicate instantly regardless of distance while avoiding the huge cost of building infrastructure.
Virtual Trunk is a proven solution that is relied upon every day by people in all kinds of industries and events.
| | 2-Way Radio | Mobile Phones | Virtual Trunk |
| --- | --- | --- | --- |
| One to many group Communications | YES | NO | YES |
| Fixed usage costs | YES | NO | YES |
| Simple Operations | YES | NO | YES |
| Rugged handsets | YES | NO | YES |
| Comprehensive signal coverage | NO | YES | YES |
| Expensive infrastructure required | NO | YES | YES |
| No frequency issues | NO | YES | YES |
| GPS tracking | NO | NO | YES |
| Emergency button for safety | NO | NO | YES |
| Multi network roaming | NO | NO | YES |
PTT Radios without constraints
Smart Radios use a push to talk (PTT) technology called push to talk over cellular (PTToC), it's a modern technology for sending voice data across the cellular network or internet rather than purely over the airwaves like conventional two way radios.
No Range Limitations
Smart Radios have virtually limitless range. As long as there is a mobile signal or WiFi coverage you can use them to keep in communication with your colleagues. Conventional 2 way radios are mostly limited to line of site range without the use of expensive repeaters, even then the range will be limited to a geographical area.
Interference Free
Smart Radios do not suffer from interference, we've all experienced bad reception when using crackly walkie talkies. This can even be the same with professional Two Way Radios. Because smart radios are digital and they harness the power of a cellular or Wifi Network they provide ultra high quality audio with no crackles!